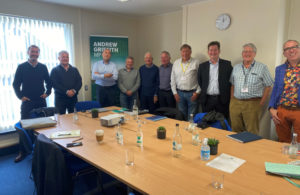 Arundel and South Downs MP Andrew Griffith has warmly welcomed news of a £113,770 grant being awarded to Angmering's Community Land Trust.
The Department of Levelling Up, Housing and Communities (DHULC) have approved the award from the Community Housing Fund. The money will help to deliver 12 new homes at Mayflower Way for locally affordable rent for those who have a local connection to the Angmering parish.
Andrew Griffith is especially supportive of the Community Land Trusts (CLTs) in Arundel and South Downs and believes that CLTs should be an integral part of the planning process. Community-led housing involves local people.
Tony Cross is a volunteer who leads the Angmering Community Land Trust, a charitable company. The CLT is also supported by the parish council, South Downs National Park Authority, Arun District Council, the National CLT Network and Action in Rural Sussex.
The Community Housing Fund grant will help the CLT get their next 12-home project 'over the line'. They expect to sign contracts with the developer before the end of April.
Tony Cross, Chairman of Angmering CLT, said:
"ACLT is exceptionally pleased to be awarded such a sizeable grant and is proud that we are a flag bearer for West Sussex CLT's in driving community-led homes forward. The money will be used to help fund the Pre-Contract Services Agreement with our contractors to commence construction of 12 affordable homes in Angmering. We are extremely grateful for Andrew's support of CLT's in general and ACLT in particular"
"I am absolutely delighted to know a substantial award from the Community Housing Fund will be allocated to Angmering. Community Land Trusts are one of the best solutions to providing genuinely affordable homes for truly local people. There are a number of projects in Arundel and South Downs and I look forward to continuing to give them my full support."
Tom Warder, Community Led Housing Manager at Action in Rural Sussex said; "The Community Housing Fund is a vital source of funding for community led housing groups such as Angmering CLT. Great to see this support being provided to innovative affordable housing projects such as that at Mayflower Way which should enable it to get onto site very soon."
Photograph – L-R, Tom Warder (AiRS), James Stewart (Arundel), Andrew, Paul Wilkinson (Slindon), Roger Paterson (Pulborough), Mike Link (Aldingborne, Barnham & Eastergate), Tony Cross (Angmering), Mike Hughes (SDNPA), Robin McDonald (Angmering), Darrell Gale (Arundel).